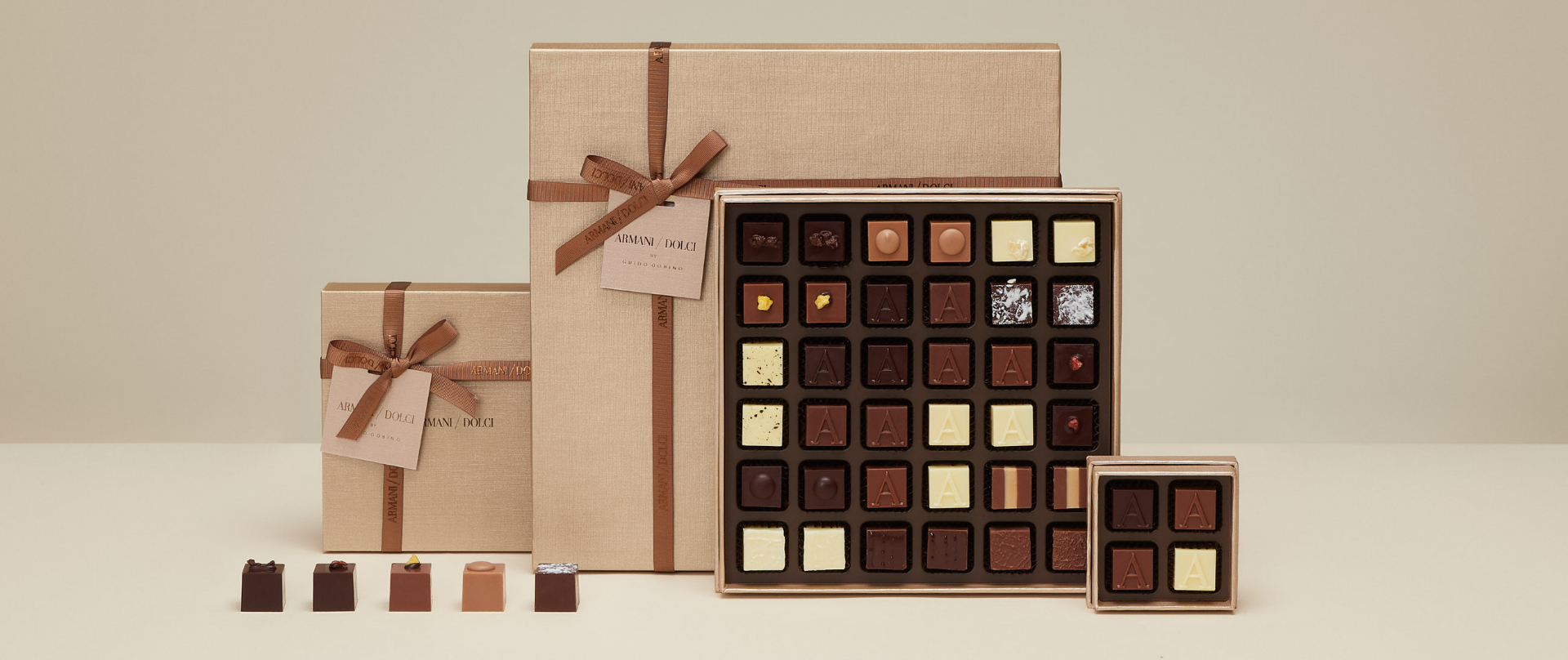 ARMANI/DOLCI
Armani/Dolci: an expression of the Armani lifestyle dedicated to the world of taste.

The line was launched in 2002 with the desire to marry the best flavours and the finest ingredients with the signature Giorgio Armani style and elegant aesthetic. Initially conceived for the Armani flagship store in Milan's Via Manzoni 31, the offering is now available in 15 retail outlets worldwide.
Armani/Dolci products are a pure expression of the Turinese confectionery tradition with an emphasis on the use of Italian raw materials such as the Piedmont I.G.P. hazelnuts, Bronte pistachios, milk from the Piedmont Alps or Piedmont mint and saffron. They offer a universe of sophisticated and surprising flavours: pralines, dragées, coated ginger and citrus peel, chocolate bars, chocolate disks, chocolate spreads, jams, honey, teas, biscuits and sugar.

The packaging is in keeping with the Armani style; sophisticated and understated. The boxes, in a delicate shade of rose gold with a metallic-effect finish and bronze foil printed logo, are tied together by a hazelnut-colour, grosgrain brand logo ribbon. Special collections are issued for the most important recurring occasions: in addition to Christmas, Valentine's Day, Easter and Ramadan, there is an exclusive limited edition for autumn.
GUIDO GOBINO
Since the 1st of January, 2019, all of our chocolate is produced by Guido Gobino Ltd., award-winning artisan of the Italian chocolate industry.
Guido Gobino is a craftsman who blends tradition with a flair for innovation, uniting creativity, flavour and passion to create the highest quality of handmade chocolates. Innovation comes from a careful selection of raw materials, avant-garde techniques and uninterrupted experimentation that aims to achieve the highest quality.

All products undergo the entire process of turning the cocoa bean into chocolate, selecting only the most fragrant beans and favouring Central-South American varieties, as they are the most highly sought-after for their rich aromatic nuances. Although cocoa processing adopts modern and mechanical techniques, it still requires a notable amount of human intervention, adapting to the type of cocoa, the recipe and roasting times, so as to best preserve quality and other aspects, guaranteeing the variety of tastes and typical aromas of handmade chocolate.
Guido Gobino s.r.l. per Armani/Dolci – Via Cagliari 15/b - 10153 Torino (TO)